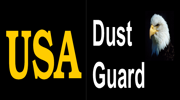 USA Dust Guard, Div. of Scott Electric
Providing 30+ years of sales and product design experience to the concrete and masonry restoration profession. USA Dust Guard's success is based on a simple formula: we listen to our customers. Our designs typically start from a conversation with a customer.
With meaningful and long-term relationships with our customers and manufacturers, our passion for the industry shows and our customers know they can trust our guidance.
PERSONAL PRICING As the inventor and designer of many products (see table, below), USA Dust Guard recognizes the importance that price plays in decision making. While manufacturers struggle to provide equal service to all distributors, we understand your struggle to find the best product at the best price.
To accommodate the manufacturers MAP policy [Minimum Advertised Price --- they tell us, as distributors, the price that we can advertised their product, USA Dust Guard does not publish our prices on the website.
Since 1946, Scott Electric has become one of the largest electrical and power tool distributors in the country. At USA Dust Guard, a division of Scott Electric, we do things the old fashion way and that's by establishing relationships with our customers and working with you to provide the price you need.
For pricing, please call us at 412 - 605 -2992, or fill out the quick-and-easy "Request a Quote" form. Additionally, when you receive the price, you'll be talking to the product expert who will answer any product questions you may have. In this digital age, we may be old-fashion, but we answer the phone, make personal sales calls, provide the best price and we back it with our product know-how and service.
OPEN AN ACCOUNT USA Dust Guard / Scott Electric is proud to represent some of the most unique products and best brands in the industry. As an individual or as a large, commercial company, opening an account has many benefits including special accommodations and personalized pricing.
SOLUTIONS SUPPLIER
Many of our sales, managers, customer service and manufacturing partners have played prominent roles at many of the well-known companies including Diamond Products, HTC, Husqvarna, Klindex, Metabo, Pullman-Ermator, Pulse-Bac, etc. Each has insightful knowledge and it is displayed in the products and care we provide at USA Dust Guard.
We look forward to you trying our products and earning your trust as a distributor you can grow with --- Team USA Dust Guard