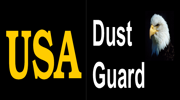 USA Dust Guard - a Solutions Supplier
Providing 30+ years of sales and product design experience to the concrete and masonry restoration profession. USA Dust Guard's success is based on a simple formula: we listen to our customers. From product research to sales, the design typically starts from a conversation with one of our customers.
With meaningful and long-term relations with our customers and manufacturers, our passion for the industry shows and our customers know they can trust our guidance.
Our unique products represents the independent American manufacturers who strive for excellence in the products they make. Combined with representing 1000's of vendors, you can count on our knowledge and experience in recommending the right tool for you. And we back it up with our in-house service department that includes warranty repairs of major manufacturers.
Many of our sales, managers, customer service and manufacturing partners have played prominent roles at many of the well-known companies including Diamond Products, Hilti, HTC, Husqvarna, ICS, Metabo, Nilfisk, Pullman-Ermator, Pulse-Bac, etc. Each has insightful knowledge and it is displayed in the products and care we provide at USA Dust Guard.
We look forward to you trying our products and we'll be listening to what you have to say --- Team USA Dust Guard