SHOP BY PRODUCT
(Alpha Order)

ABRASIVES
WIRE WHEELS
THIN CUT-OFF
SEALANT CUT-OUT
COATING REMOVAL


AIR SCRUBBERS
DUST SOCKS
VENTILATORS


ANCHORS
MADE TO PRINT
STRUT & FITTINGS
HELICAL - MASONRY
EPOXY, MECHANICAL


CARBIDE BITS
CHISELS
DUST CONTROL


DIAMONDS
POLISHING
CUP WHEELS
BLADES, BITS
SURFACE PREP
CORE BITS & RIG


DUST GUARDS
DUST SOCKS
AIR SCRUBBERS
CUTTING, SAWING
DRILLING, GRINDING


FILTERS
CARTRIDGES
HOSES, CUFFS
BAGS, LONGOPAC


GENERATORS
EXTENSION CORDS


JOB BOXES
JOBOX, KNAACK


JOB SUPPLIES
MARKING PAINT
POLY SHEATHING
WHEEL BARROWS
SHOVELS, BROOMS


LADDERS


MIXERS
PADDLES
MIXING STATIONS
HAND HELD MIXERS
TRANSPORT CARTS


POWER TOOLS
AIR, BATTERY
GAS, ELECTRIC


SAFETY
RESPIRATORS
GLOVES, GLASSES
FALL PROTECTION


SAWS
EARLY-ENTRY
TILE, MASONRY
JOINT, CUT-OFF
CRACK CHASING


SEALANT CUTOUT
ABRASIVES
WIRE WHEELS
BLADES, SCRAPERS


SLURRY
VACUUMS
PRESS MACHINES


SURFACE PREP
GRINDERS
AIR SCRUBBERS
TRANSPORT CARTS
MIXERS, SCARIFIERS


VACUUMS
HEPA, WET/DRY
FILTERS, HOSES
CUFFS, ADAPTERS
SLURRY, PUMP-OUT


VENTILATORS
AIR SCRUBBERS


WATER HOSE
RUBBER & VINYL




About Us > Company Background Information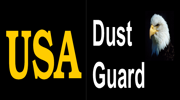 USA Dust Guard - a Solutions Supplier
Providing 30+ years of sales and product design experience to the concrete and masonry restoration profession. USA Dust Guard's success is based on a simple formula: we listen to our customers. From product research to sales, the design typically starts from a conversation with one of our customers.
With meaningful and long-term relations with our customers and manufacturers, our passion for the industry shows and our customers know they can trust our guidance.
Our unique products represents the independent American manufacturers who strive for excellence in the products they make. Combined with representing 1000's of vendors, you can count on our knowledge and experience in recommending the right tool for you. And we back it up with our in-house service department that includes warranty repairs of major manufacturers.
Many of our sales, managers, customer service and manufacturing partners have played prominent roles at many of the well-known companies including Diamond Products, Hilti, HTC, Husqvarna, ICS, Metabo, Nilfisk, Pullman-Ermator, Pulse-Bac, etc. Each has insightful knowledge and it is displayed in the products and care we provide at USA Dust Guard.
We look forward to you trying our products and we'll be listening to what you have to say --- Team USA Dust Guard

Scott Electric USA -
In business since 1946, Scott Electric is one of the largest and most complete stocking distributors of power tools, electric equipment, supplies and lighting in the United States.
12 BRANCH LOCATIONS

Home office is in Greensburg, PA with (11) branch locations in PA, MD, NY and OH

representing 1000's of vendors

for additional information and contact information for each branch < click here >
PRODUCTS

As a Scott Electric customer you have access to all of our Divisions, Companies, Products and Services.
SERVICES

Free Overnight Transfer - if one of our locations doesn't have the item you need our fleet of trucks run nightly (covering several states) so you'll have it for a will-call pick-up at a branch location nearest you, or we'll deliver it to you (within our delivery zone.) Of course we ship daily with UPS, USPS and common LTL carriers.

Advantage Rental Catalog: 28-Pages

Advantage Tool Repair Service: 1-Page Flyer.