SHOP BY PRODUCT
(Alpha Order)

ABRASIVES
CUT-OFF
ZEK DISCS
WIRE WHEELS
COATING REMOVAL

AIR SCRUBBERS
DUST SOCKS
VENTILATORS
POWER BLOWERS

CARBIDE, CHISELS
SCRAPERS
CUSTOM LENGTHS

DIAMONDS

DUST CONTROL
SHROUDS
DUST SOCKS
POWER BLOWERS

EXTENSION CORDS
EXTREME WEATHER

GANG BOXES

GENERATORS
INVERTERS

HEATERS
PROPANE
KEROSENE

LADDERS

PLASTIC
SHEETING - POLY
REINFORCED
CLEAR, WHITE
MARKING PAINT

POWER TOOLS

PRESS WASHERS
WATER RECYCLING

SAFETY

SAWS
CUT-OFF
WALK-BEHIND
MASONRY, TILE

SLURRY
VACUUMS
SQUEEGEES

SURFACE PREP
DIAMONDS
GRINDERS
SCARIFIERS

VACUUMS
PUMP-OUT
SILICA DUST
ACCESSORIES




Credit Application & Product Line Card

Open An Account
Scott Electric USA - in business since 1946, is the parent company of USA Dust Guard. The credit application and all billing is with Scott Electric. With a Scott Electric account, besides all of the USA Dust Guard products you now have access to all of Scott Electric's products and services which includes:
Scott Electric USA
One of the largest electrical wholesalers in the USA

14 branch locations in PA, MD, NY and OH

representing 1000's of vendors for Electrical Fixtures, Conduit, Wire, Lighting, Transformers, Fittings, etc.

Separate Divisions of Scott Electric

Advantage Contractors Supplies - the power tool and fastener division of Scott Electric

USA Dust Guard - diamonds, safety and dust control division of Scott Electric. Click on the line card which also gives you access to our product "price" brochures.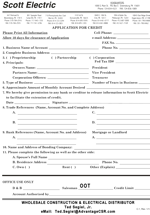 Credit Application
Complete the PDF credit application online with fill-in fields
Sign & eMail - save a copy for yourself and eMail it to: Ted.Segiel@AdvantageCSR.com