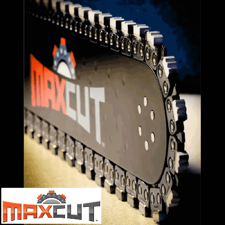 Fully interchangeable with all saws, guide bars & drive sprockets.

High Performance Concrete Cutting Chain
Efficiently cuts heavy-aggregate, concrete, 1/2" rebar, brick, granite, reinforced hollow block, ductile iron, etc.
Key Features:
Crown notched segments (vs. square) regulates surface heat by keeping the segments cooler for optimal wear and cutting speed
USA Factory Quality Control - automated, precision laser welding process, ensures consistent performance and life
Bump protection between links and patented rivet linkage with o-ring seal prevents premature chain stretching from slurry abrasion that occurs during the cutting process.