SHOP BY PRODUCT
(Alpha Order)

ABRASIVES
CUT-OFF
ZEK DISCS
WIRE WHEELS
COATING REMOVAL

AIR SCRUBBERS
DUST SOCKS
VENTILATORS

ANCHORS
CUSTOM
STRUT & FITTINGS
HELICAL - MASONRY
EPOXY, MECHANICAL

CARBIDE BITS
CHISELS
SCRAPERS
XL LENGTHS

COMPRESSORS
SLURRY PRESS

CUTOUT
SEALANT
BLADES, DISCS
COATING REMOVAL

DIAMONDS

DUST CONTROL
SHROUDS
DUST SOCKS
POWER BLOWERS

ENGINES
GAS

EXTENSION CORDS
EXTREME WEATHER
YOUR NAME CORDS

FILTERS
CARTRIDGES
VACUUM BAGS

GANG BOXES
JOBOX
KNAACK

GENERATORS
INVERTERS

HEATERS
PROPANE
KEROSENE

LADDERS

MIXERS
PADDLES
MIXING STATIONS
TRANSPORT CARTS

PLASTIC
SHEETING - POLY
REINFORCED
CLEAR, WHITE
MARKING PAINT

PRESS WASHERS
WATER RECYCLING

SAFETY

SAWS
CUT-OFF
WALK-BEHIND
MASONRY, TILE

SHOVELS
BROOMS
WHEEL BARROWS

SLURRY
VACUUMS
SLURRY PRESS

SURFACE PREP
MIXERS, SCARIFIERS
TRANSPORT CARTS
GRINDERS, DIAMONDS

VACUUMS
SILICA DUST
ACCESSORIES
SLURRY, PUMP-OUT

VENTILATORS
AIR SCRUBBERS
POWER BLOWERS

WATER HOSE




Restoration Kits: Free Grinders & Dust Shrouds with Cup Wheel Purchase
Restoration Kit - Cup Wheel Packages
Two options:
Select (5) cup wheels --- receive a Free 5" or 7" Dust Shroud.

or, select (10) cup wheels --- receive a Dual Discount on angle grinder of your choice and unlimited dust shrouds.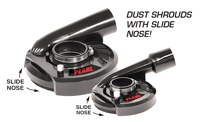 Cup Wheel Dust Shrouds, 5" & 7"
Features / Benefits:
Universal Fit:

assorted insert bushings to fit most angle grinders
accepts thread-on cup wheels (w/ 5/8-11 thread hub), or standard cup wheels (with 5/8-7/8" arbor) using the included 5/8-11 threaded adapter

Benefits:
Cup Wheel Package

Two (2) options:
Purchase 5 cup wheels, receive a Free Dust Shroud, 5" or 7" < click here to purchase the free dust shroud >
Or, purchase (10) cup wheels and receive a Dual Discount: Dewalt, Makita, Metabo or Milwaukee grinder and unlimited Dust Shrouds at the discount price - See selections, next.
USA Dust Guard
Diamond Cup Wheel Selection
For each Diamond Package, please select (10) cup wheels.
Scaffold Vacuums

Compact, Durable, Powerful
No Electronic Filter Cleaning
1 & 2-motor models

10/12 Grit, Aggressive Grinding
30 Grit, Grinding / Removal
30 Grit, Smooth Grinding
30/40 Grit, XL Life Grinding
20 Grit, Grinding / Removal
Arrow, Grinding / Removal
HD Coating Removal
Light Coating Removal