SHOP BY PRODUCT
(Alpha Order)

ABRASIVES
> DiamondX
> Wire Wheels
> Coating Removal
> Thin Wafer Wheels


ANCHORS
> Helical - Masonry
> Adhesives, Epoxy
> Mechanical - Concrete


CARBIDE BITS
CHISELS
> Bulk Packs
> USA Made Quality
> Shanks for Most Brands


CLEAN-UP
CONTAINMENT
> Shovels
> Acid Brushes
> Poly Sheeting
> Wheelbarrows
> Brooms, Hoses
> Curing Blankets
> Contractor Bags
> Reinforced Visqueen


DIAMONDS
> Chain
> Core Bits
> Polishing Pads
> Coating Removal
> Blades, Cup Wheels


DUST SHROUDS
> Fans, Saws
> Tuck Pointing
> Chipping Hammers
> Cup Wheel Shrouds


ELECTRICAL
> Extension Cords
> Replacement Plug Ends
> GENERATORS:
Honda, Firman, Yamaha


HEPA VACUUMS
> Wet / Dry
> HEPA Certified
> HEPA Air Mover
> Hoses, Cuffs, Filters
> Silica Dust Extractors


LADDERS
> Werner - Fiberglass


POWER TOOLS
> Polishers
> Multi-Tools
> Cut-Off Saws
> Die Grinders
> Angle Grinders
> Rotary Hammers
> Chipping Hammers
> Electric Needle Scaler


SAFETY
> Ventilator
> Rain Gear
> Respirators
> Safety Cans
> Fall Protection
> Safety Glasses
> Hi-Visibility Vests
> Storage Cabinets
> Fire Extinguishers
> Disinfectant Fogger
> Protective Coveralls


SAWS
> Joint Saws
> Chain Saws
> Walk-Behind
> Crack Chasing
> Masonry Table
> Hand-Held Cut-Off
> Early Entry, Soff-Cut


SEALANT REMOVAL
> Blades -
Cut-Out & Oscillating
> Abrasives
> Wire Wheels


SLURRY EXTRACTION
> pH Processing
> Portable Systems
> Filter Press Machines
> Dewatering, Recycling


SURFACE PREP
MACHINES
> Grinders
> Grinder / Edger
> Scarify Machine


VALUE SERVICES
> Equipment Rental
> In-House Tool Repair


About Us > Our Companies & Services.
Scott Electric -----
Parent Company
Wholesale Electric Distributor & Power Tool Super Store

Founded in 1946, Scott Electric is one of the largest electric and equipment distributors in the United States.
Expansion has continued with 11 locations in PA, MD, WV and NY.

A few of the Companies & Divisions of Scott Electric:
USA Dust Guard - a Solutions Supplier
Providing 30+ years of sales and product design experience to the concrete and masonry restoration profession. USA Dust Guard's success is based on a simple formula: we listen to our customers. From product research to sales, the initial product or idea was usually started from a conversation or observation with one of our customers.
With meaningful and long-term relations with both our customers and manufacturing partners, we have a passion for the industry we serve and our customers know that they can trust us for options and guidance.
Some of our products are our designs and they represent the independent American manufacturer who strives everyday to produce products aimed at helping you excel. Combined with representing most of the larger and more well-known manufacturers, you can be sure to rely on our knowledge to recommend the exact tool for your project. And we back it up with an in-house tool repair department that services everything we sale, including manufacture warranties.
Many of our sales, managers, customer service and manufacturing partners have played prominent roles at many of the well-known companies including Diamond Products, HTC, Husqvarna, Klindex, Metabo, Pullman-Ermator, Pulse-Bac, etc. Each has insightful knowledge and it is displayed in the products and care we provide at USA Dust Guard.
We look forward to you trying our products and we'll be listening to what you have to say --- Team USA Dust Guard

Advantage Contractor Supply - Tool & Equipment Sales
One of the largest Power Tools & Fastener distributors in the United States.
With 11 locations in PA, MD and NY, each are fully stocked with all of the major brands and accessories including Bosch, DeWalt, Honda Generators, Husqvarna, Makita, Metabo and Milwaukee. You can compare them all at any of our showroom locations.
Scott Electric - One of the largest and most complete stocking distributors of electrical supplies, parts and lighting in the United States.
Headquarters are in Greensburg, PA with locations in Pittsburgh (2), Duncansville, Erie, Warren, Camp Hill, Bloomsburg, Fredonia (NY), Buffalo (NY), and Hagerstown (MD).
Since 1946 Scott Electric has evolved and diversified to offer a wide range of products and services. They truly offer everything you help make your job easier including a huge inventory with prices that are extremely low!
Additional Scott Electric companies & divisions include: 1) Commercial Lighting - Layout & Design, 2) Apparatus - Electrical Components & Equipment, 3) Battery - For every application including: Sealed Lead Acid, Golf carts, Lifts, Floor Scrubbers, Battery Packs, General Purpose, Automotive, Commercial Trucking & Heavy Equipment, Industrial Steel Case industrial, Switchgear, Standby & UPS Systems, Marine Starting & Deep Cycle, 4) Palco & Honda Industrial Generators - For Factories, Industry, Commercial, Home.
To speck directly to a Scott Electric Electrical Representative < click here - Contact Us >
South Main Trucking - Fleet Delivery Service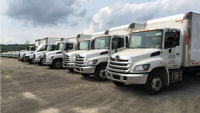 Scott Electric Delivers - Fast, free and next-day delivery by our own fleet of trucks. From delivery of your new tools and equipment to pickup and delivery of repaired and rental tools.
Our truck service is used by all of the Scott Electric companies and covers several neighboring states, please call to see if we deliver to you. And of course we ship daily with UPS, USPS and common LTL carriers.